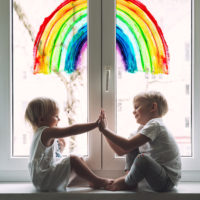 What's at Stake For LGBTQ Families This Election.  The fight for equality isn't over, and can most definitely still be lost.
What's at Stake For LGBTQ Families This Election?  It was the worst of times; it was the worst of times. I'm an optimist at heart, but there were days this year when looking on the bright side seemed like the act of a lunatic. Every day I felt the heaviness in my heart.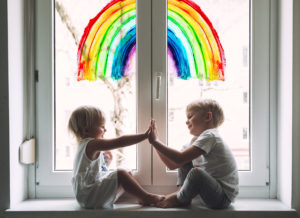 Then, one morning in August, I walked down our dirt road with the dog. Mist was rising off Long Pond. When we got home, I found a small stone among the snapdragons and joe-pye weed in our garden. Someone had painted it with a rainbow. On one side were the words "You matter."
This turned out to be one of a series of painted rocks that an anonymous person, or persons, have been leaving around my neighborhood. Some of the messages on them are generic, like "Maine: The way life should be." But others seemed specific to their recipients. In front of the house of a neighbor with lots of children was a red rock inscribed with "Kids are great." In the garden of a new arrival to our tiny Maine neighborhood: "Welcome to the lake." By the house of a couple with a goofy black Lab: "Your dog is cute."
It seemed as if a guardian angel had appeared among us, charged with the task of giving us hope at a time when many of us have never felt so lousy.
For me, a reminder that my big gay family matters right now was more than a pleasantry. It was like a message from heaven. For the last four years the message from Donald Trump has been the opposite: To him, we don't matter at all. In so many ways, he's made it clear he feels we'd be better off erased.
The messaging began the first week of his administration, when mention of L.G.B.T.Q. rights disappeared from the White House website.
This was just for starters. Later, he rejected plans to add questions about gender identity and sexual orientation to the 2020 census. He banned trans people from the military. On the anniversary of the Pulse nightclub shooting, he announced that his administration would roll back Obama-era health care protections for trans people. He prohibited embassies from flying the rainbow flag on flagpoles. For three out of four Junes he has failed to mention Pride Month — although one time he did take time out of his busy schedule to talk up National Homeownership Month.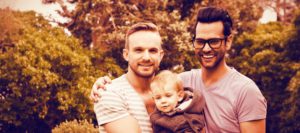 His Department of Justice filed a brief with the Supreme Court endorsing the idea that employers had the right to fire L.G.B.T.Q. people just for being themselves. In the end, even the conservative-majority Supreme Court ruled against him. But the idea that the president of the United States went out of his way to put me, and people like me, at risk, is harrowing.
This August, at its convention, the Trump Republican Party re-endorsed its 2016 platform. You know, the one that sanctifies "traditional marriage" and condemns the Supreme Court ruling in favor of marriage equality. The one that describes the ruling defending a marriage like mine as "full of 'silly extravagances.'"
Last week the administration filed a brief with the Indiana Supreme Court making the case that a Catholic school can fire a gay teacher who marries. It's a First Amendment case, the administration says. Because persecuting L.G.B.T.Q. people is a form of free expression, I guess. Like cake frosting.
Also in the last week, the president released a shortlist of potential Supreme Court nominees for his second term, a list rife with anti-L.G.B.T.Q. and anti-civil rights individuals. The legal director of Lambda Legal, an organization that fights for the legal rights of L.G.B.T.Q. people, described the nominees as "terrifying." One of them, Allison Jones Rushing, has ties to a group called the Alliance Defending Freedom, which has espoused the idea that homosexuality should be criminalized. The Southern Poverty Law Center calls it a hate group.
NYTimes.com, September 16, 2020 by Jennifer Finney Boylan 
Click here to read the entire article.
The post What's at Stake For LGBTQ Families This Election – The Most Powerful Man in the World Thinks My Family Is 'Less Than' appeared first on Time For Families.

Source: Time for Families