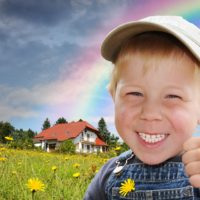 In a recent chat at our children's school plant sale, a fellow parent shared some of the many ways their LGBTQ family loves to celebrate Pride Month each June, from wearing rainbow socks to hosting party nights.  Straight Allies welcome!
Although I write and speak regularly about parenting, sexuality and equality — and try year-round to teach my kids, 8 and 12, about inclusivity — hearing another parent describe Pride Month as "huge" for their family made me consider what more we could be doing as straight allies with my kids each June. Here's what I learned when I went looking for ways all families can recognize LGBTQ Pride Month.
Learn and listen
Pride is not just a party. Some LGBTQ families and allies say they approach June not so much as a month of celebration but as a time to honor LGBTQ struggles, both historical and ongoing.
"The leap between being someone who's kind of interested in the issue and being someone who is an active ally is an enthusiasm to learn," PFLAG National's Straight for Equality project says in a free online guide to being a straight ally. "Go online. Ask questions. Do some research. Reach out to other allies who might have grappled with the same challenge."
The guide suggests studying a glossary of "gay-b-c's" to get comfortable using the terms associated with the LGBTQ community. Straight allies and other parents sometimes ask how young is too young to teach children about gender diversity, sexual orientation and the many shapes families can take. Well before preschool, kids can grasp these basic concepts — and they're usually quick to embrace messages that feel accepting, kind and fair. Starting an age-appropriate chat can be as simple as asking, "Did you know some families have two mommies? Or two daddies? Or one parent instead of two?"
"This is the month when your children of all ages will ask you questions about 'what is LGBTQ?' and 'why the rainbows?,' " said Eliza Byard, the executive director of GLSEN, a national organization supporting K-12 LGBTQ students. "Be ready with a succinct and supportive answer for whatever level of development your child is at."
Focus the message on other children's experiences. Here are some examples: "What if you heard someone at a birthday party tell a boy he can't have a pink balloon?" "Can you think of ways to make sure kids with two moms or two dads feel included in camp stories?" "Have you ever heard a classmate say 'that's so gay' in a negative way? What could you do if you hear that again?" "Did you ever wonder what it might be like for a non-binary kid to have to choose every day between bathrooms marked 'girls' and 'boys'? How could our community work together to make that easier?"
Greet Pride with a smile
Pride is solemn for some observers, but Andrea Hartsough, a San Francisco criminal defense attorney and lesbian mom of two, encourages families to go for the gusto and do whatever makes Pride Month fun.
WashingtonPost.com, by Bonnie J. Rough, June 14, 20`19
Click here to read the entire article.
The post Straight Allies – How straight parents can raise kids to be allies, during Pride Month and beyond appeared first on Time For Families.

Source: Time for Families