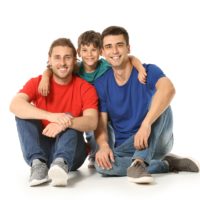 An administration proposal would make it easier to discriminate against gay families who want to adopt through the foster care system.
"I know a way out of hell," says Ben Kingsley, as Mohandas Gandhi, in Richard Attenborough's 1982 film.
He's speaking to a Hindu man who has killed a Muslim child, to even the score after his own son has been murdered.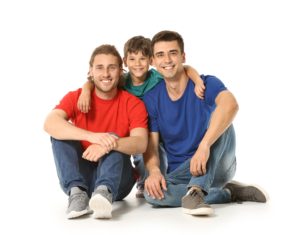 "Find a child, a child whose mother and father were killed, and raise him as your own. Only be sure that he is a Muslim, and that you raise him as one."
The first time I saw that movie, 37 years ago, that scene took my breath away, and not only because of Mr. Kingsley's performance, for which he won an Academy Award. What has also lingered with me is the idea that the mission of parenthood is not to raise a child to be another version of you, but to help that child become himself or herself.
Donald Trump probably hasn't seen that movie — or if he has, its message was lost on him. That would explain why his administration is enacting policies that enshrine discrimination and cruelty in foster care and adoption for gay families.
On any given day in this country, close to 440,000 children are in foster care, awaiting reunification with their original families or placement with new adoptive parents. You'd think that any qualified parents willing to make the enormous commitment to bringing a foster child into their home would be welcomed, hailed as heroes.
But then maybe you forgot the Trump mantra: Cruelty always comes first.
Incredibly, this is never so true as when children are concerned. We've seen it at the border, where immigrant children are separated from their parents and put in cages. We've seen it in the decimation of the Education Department, whose budget he has attempted to cut for three years running.
And we see it in a new policy under consideration to make it easier for adoption agencies to discriminate against parents — against non-Christians, against same-sex couples, against anyone, really, who doesn't fit the agencies' particular definition of what makes a family.
In January, the administration granted a waiver to Miracle Hill Ministries in South Carolina, exempting it from the Obama-era requirement that adoption agencies receiving federal funding must be accepting of all families. Which means that Miracle Hill — the state's largest provider of foster families for children who don't have significant special needs — can now turn away non-Christian foster parents and mentors, and anyone else who doesn't pass muster.
NYTimes.com, By Jennifer Finney Boylan August 7, 2019
Click here to read the entire article.
The post Opinion – The Latest Victims of Trump's Cruelty? Foster Children and Gay Families appeared first on Time For Families.

Source: Time for Families