Few people are still around who were really at the Stonewall Inn in Greenwich Village on that summer evening 50 years ago, when a raid by the police led to a violent uprising. Just this month, the New York Police Department apologized. Here are recollections of that night from three men who were there.
In February 1969, Martin Boyce moved into the Manhattan apartment where he would live for the next 50 years. At the time, Mr. Boyce, then a 21-year-old history student at Hunter College, was living with his family. Most nights, however, he traded the East Side for the West Village, where the Stonewall Inn resides.
"Christopher Street was our turf," he said in a recent interview at his home.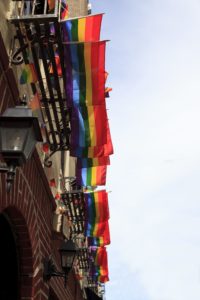 Mr. Boyce and some of his friends liked to dress in "scare drag," a looser style of gender-bending that, he recalled, some drag queens derided as "lazy" and "no ambition."
But the point was "to confuse someone for just a few moments," he explained. In any case, one of his personal philosophies of scare drag had a practical benefit.
"Never wear heels, because you had to run," he said.
Evading police harassment was a fact of life for gay people like Mr. Boyce. Many of the unwanted interactions were predicated on a criminal statute allowing for the arrest of anyone not wearing at least three articles of gender-appropriate clothing. ("And socks didn't count," Mr. Boyce said.)
While allowing that the officers "generally" followed the rules, he said that "it was all their whim to make our lives miserable."
According to Mr. Boyce, the routine police stops, regular attempts at entrapment and raids of establishments frequented by gays all contributed to an atmosphere in which being gay meant feeling hunted.
"We all had our lists in our heads of friends who were beaten, maimed, thrown out of their house, informed on by the cops — tragic stories," he said. "But there was nothing you could do about it."
The Stonewall Inn, a seedy gay bar on Christopher Street, was different things to different people. Many resented the Mafia's control of the bar, which manifested in ways ranging from police payoffs to what Mr. Boyce described as a sign-in book at the entrance. ("I can't tell you how many times Judy Garland was there," he said wryly. "Not one real name.")
But Mark Segal, a Philadelphia native who, at 18, arrived in New York City in the spring of 1969, was more than happy to overlook the overpriced and watered-down drinks.
"It was a safe place for us," he said. "When you walked in the door of Stonewall," he added, "you could hold hands, you could kiss and, more importantly, you could dance."
The bar also drew an unusually diverse crowd. "Stonewall was like a Noah's ark," Mr. Boyce said. Its patrons exhibited "degrees of loudness," he explained, "going from drag queens down to professionals."
To avoid alienating any particular demographic and ensure that the clientele remained mixed, Mr. Boyce said, the bar's various Mafia front men performed a crude calculus at the door: "Not too many whites, it'll tip to white; not too many blacks, it'll tip to black."
Still, "it wasn't the only gay bar in the neighborhood," Jim Fouratt pointed out in a recent interview. Mr. Fouratt turned 28 in the summer of 1969, when he was working for CBS Records, giving the label cool-kid credibility in meetings with bands. He preferred a bar at the nearby Cherry Lane Theater, he said.
"Most of the customers were closeted married men," he said of the Stonewall. In his 1993 book "Stonewall," the historian Martin Duberman quoted a description of the bar by Mr. Fouratt that pulled exactly zero punches: "a real dive, an awful, sleazy place set up by the Mob for hustlers."
anytime.com, by louis Lucero II, June 16, 2019
Click here to read the entire article.
The post Memories of That Night at the Stonewall Inn, From Those Who Were There appeared first on Time For Families.

Source: Time for Families