A landmark report from the United Nations' scientific panel on climate change paints a far more dire picture of the immediate consequences of climate change than previously thought and says that avoiding the damage requires transforming the world economy at a speed and scale that has "no documented historic precedent."
The report, issued on Monday by the Intergovernmental Panel on Climate Change, a group of scientists convened by the United Nations to guide world leaders, describes a world of worsening food shortages and wildfires, and a mass die-off of coral reefs as soon as 2040 — a period well within the lifetime of much of the global population.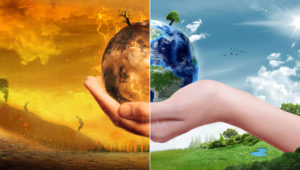 The report "is quite a shock, and quite concerning," said Bill Hare, an author of previous I.P.C.C. reports and a physicist with Climate Analytics, a nonprofit organization. "We were not aware of this just a few years ago." The report was the first to be commissioned by world leaders under the Paris agreement, the 2015 pact by nations to fight global warming.
The authors found that if greenhouse gas emissions continue at the current rate, the atmosphere will warm up by as much as 2.7 degrees Fahrenheit (1.5 degrees Celsius) above preindustrial levels by 2040, inundating coastlines and intensifying droughts and poverty. Previous work had focused on estimating the damage if average temperatures were to rise by a larger number, 3.6 degrees Fahrenheit (2 degrees Celsius), because that was the threshold scientists previously considered for the most severe effects of climate change.
Avoiding the most serious damage requires transforming the world economy within just a few years, said the authors, who estimate that the damage would come at a cost of $54 trillion. But while they conclude that it is technically possible to achieve the rapid changes required to avoid 2.7 degrees of warming, they concede that it may be politically unlikely.
For instance, the report says that heavy taxes or prices on carbon dioxide emissions — perhaps as high as $27,000 per ton by 2100 — would be required. But such a move would be almost politically impossible in the United States, the world's largest economy and second-largest greenhouse gas emitter behind China. Lawmakers around the world, including in China, the European Union and California, have enacted carbon pricing programs.
New York Times – October 8, 2018 by Coral Davenport
Click here to read the entire article.
The post Major Climate Change Report Describes a Strong Risk of Crisis as Early as 2040 appeared first on Time For Families.

Source: Time for Families