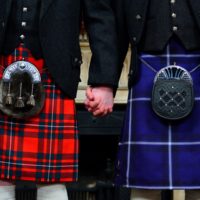 Just 18 years ago, it was still illegal in Scotland to "intentionally promote homosexuality" in schools.
Now, the Scottish government will mandate all state schools introduce a curriculum that explains the history of lesbian, gay, bisexual, transgender and intersex (LGBTI) activism. Schools will also educate students on the use of LGBTI terminology and discuss ways to address homophobia.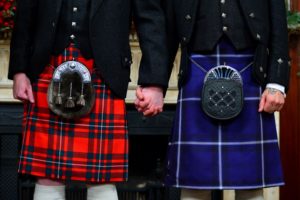 "Our education system must support everyone to reach their full potential," Scottish Deputy First Minister John Swinney said Thursday. "The recommendations I have accepted will not only improve the learning experience of our LGBTI young people, they will also support all learners to celebrate their differences, promote understanding and encourage inclusion."
The move came after a campaign called Time for Inclusive Education presented a series of suggestions to the Scottish government. According to a 2016 research report on the Scottish LGBTI community published by the group, "90% of LGBT people have experienced homophobia, biphobia or transphobia at school." The same research found that 27 percent of LGBTI people had attempted suicide — some more than once.
Scottish ministers adopted all of the recommendations from the campaign's working group. The Guardian reported there will not be options to opt out of the curriculum, which will be interspersed throughout various subjects.
Swinney said this makes Scotland "the first country in the world to have LGBTI-inclusive education embedded within the curriculum."
In recent years, Scotland has reckoned with its legacy of discrimination against the LGBTI community.
In a unanimous vote in June, Scottish lawmakers chose to pardon men who were previously charged with participating in homosexual acts. The BBC reported at the time that sexual relations between two men was decriminalized in Scotland in 1981. Some of the acts that were previously considered illegal and for which gay men are now being pardoned included consensual sex in private, or even acts such as kissing in public. In some cases, men perceived as flirting with another man could also have been charged.
Thousands of men were to be pardoned after the law was passed in June. But when it comes to the LGBTI community, there are still divisions within Scottish society, especially among religious leaders.
Washington Post, by Siobhan O'Grady – Nomvemb er 9, 2018
Click here to read the entire article.
The post In Scottish schools, students will be required to learn about LGBTI history appeared first on Time For Families.

Source: Time for Families