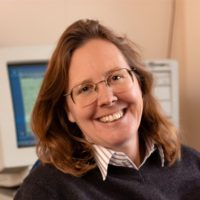 If Deb Price wrote for mainstream Americans about same-sex couples in everyday situations, she thought, society would have a harder time denying them equal rights.
As the nation's first nationally syndicated lesbian columnist who wrote regularly about gay life, Deb Price certainly covered pointed issues, like the debate over gay people in the military.
But she also turned to small matters of everyday domesticity, telling readers, for instance, that she and her partner, Joyce Murdoch, had bickered over whether to get air conditioning in their new convertible. She wrote about gardening together. She described attending Ms. Murdoch's high school reunion.
She wanted to convey that being in a committed same-sex relationship wasn't all that different from being in a heterosexual one — except maybe for the presents.
"We watch our siblings get eight silver trays, 12 pickle forks, a fondue pot and a trip to Hawaii for settling down," she wrote. "And then our relatives give us a hard time or nothing at all."
Ms. Price sought to demystify gay life for Middle America. If her readers could see same-sex couples in ordinary situations, she reasoned, they would find them less foreign and less frightening — and would have a harder time denying them equal rights.
She wrote 900 columns over 18 years and believed that they might have had something to do with the reversal in cultural attitudes that led to the legalization of same-sex marriage in 2015.
www.nytimes.com by Katherine Q. Seelye, December 10,2020
Click here to read the entire article.
The post Deb Price, a First as a Columnist on Gay Life, Dies at 62 appeared first on Time For Families.

Source: Time for Families