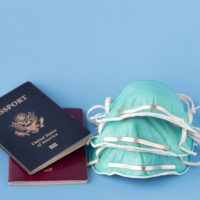 Coronavirus upends years of planning for international adoptions and surrogacy births
When Christian left Andrea at the Munich airport at 6 a.m., they expected he would join her in a few weeks.
More than a month later, Christian Hoffmann is still in Munich, working at home for a pharmaceutical company. His wife is living temporarily in an apartment in Frederick, Md., doing administrative tasks on her laptop for her job as an air traffic controller. She has spent countless hours watching the news and the first five seasons of "Game of Thrones" on Netflix, and bonding with their surrogate, who has brought her three daughters to the parking lot of Andrea's building so she can watch them dance from a second-floor balcony.
"We are just so glad one of us is here," she said. "I didn't think it would come to this. I thought, 'It will be all right; they cannot lock down everything.' I never would have imagined this situation."
The sweeping travel restrictions, imposed with little advance notice, have interrupted plans for prospective new families around the world. The United States has imposed restrictions on travelers who have been in China, Iran and most of Europe, as well as Canada and Mexico. Nine of 10 people in the world live in countries that have closed their borders because of the covid-19 outbreak, narrowing international travel to a trickle.
As a result, many people overseas with surrogates in the United States are either stranded thousands of miles away or stuck in the United States, unable to bring their newborns home. And Americans who were about to fly abroad for international adoptions cannot enter the countries where children wait for them, often in orphanages.
"We literally had 15 families who had tickets purchased to leave the next day or in few days, and 10 families ready to purchase tickets," said Susan Cox, vice president for policy at Holt International, an Oregon-based Christian organization that arranged more than 500 adoptions from other countries last year.
"In some cases, their adoptions had been in process for two or three years. They were finally at the point where the child was ready to travel, and the adoption was ready to be completed. They were so close."
Thomas Mitchell and his wife, Callie, had been waiting for eight months to bring a 3-year-old boy home from an orphanage in northern China. Mitchell built him a bed that his daughters painted and decorated his room at their home in Chattanooga, Tenn., with a mural of pandas and pagodas. They had plane tickets to China in early February, but 12 days before their departure date, the adoption was put on indefinite hold.
"At first, we thought it would be a couple weeks' delay," said Thomas Mitchell, a real estate transaction coordinator. "Then it snowballed. Now, nobody knows when we can go."
Washington Post, April 16, 2020, by Carol Morello
Click here to read the entire article.
The post Coronavirus upends years of planning for international adoptions and surrogacy births appeared first on Time For Families.

Source: Time for Families