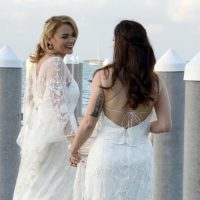 Parents at a Catholic school in Miami said they were astounded that administrators had fired a first-grade teacher just days after she married her girlfriend, and now some of the teacher's supporters on the faculty are scared that the school will retaliate against them as well.
Catholic school teacher fired after marrying her girlfriend.  The teacher, Jocelyn Morffi, was by all accounts one of the most popular educators at Sts. Peter & Paul Catholic School in Miami, where she taught for nearly seven years.
"I consider her the Mother Teresa of teachers," Samantha Mills, a parent whose son was in Ms. Morffi's class last year, said on Monday.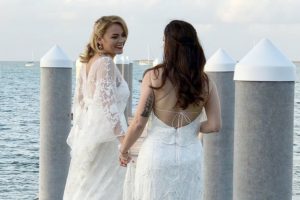 But on Feb. 8, Ms. Mills and other parents at the school received an email from the principal saying that the school had made a "difficult and necessary decision," and that Ms. Morffi would no longer be teaching at the school. The email was shared with The New York Times.
She was fired just days after marrying her girlfriend of about two years.
"The kids are very confused," said Vanessa Almeida, whose children were tutored by Ms. Morffi. "My son said, 'Mommy, I heard that Ms. Morffi got fired for getting married,' and he looked at me and said, 'What's so bad about that?'"
On Friday, Ms. Morffi spoke out in a statement on Instagram.
"This weekend I married the love of my life and unfortunately I was terminated from my job as a result," she wrote in the post. "In their eyes I'm not the right kind of Catholic for my choice in partner."
Mary Ross Agosta, director of communications for the Archdiocese of Miami, said in an email on Monday that Ms. Morffi was fired because she violated a contract stipulating that teachers must abide by Catholic teachings and traditions.
She declined to say whether Ms. Morffi had been fired for marrying a woman, noting that it was "a personnel issue."
Four teachers attended the wedding, one of them told The Times on Wednesday. She asked not to be named out of fear for her career.
by Christina Caron, New York Times, February 17, 2018
Click here to read the entire article.
The post Catholic Teacher Fired After Marrying Her Girlfriend appeared first on Time For Families.

Source: Time for Families