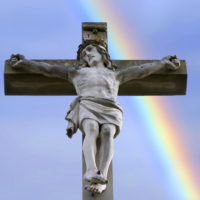 Joshua Payne-Elliott was chaperoning a trip last month when he heard that his husband's school had been stripped of its Catholic status for refusing to fire him at the demands of the local archdiocese.
Payne-Elliott, who worked at a different Catholic high school in Indianapolis, knew his institution's president would soon face a similar decision.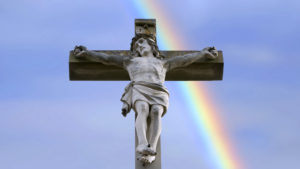 Two days later, on June 23, Cathedral High School fired Payne-Elliott, who had been a world language and social studies teacher for nearly 13 years.
The school's president "stated that sole reason for Payne-Elliott's termination was, 'the Archbishop directed that we [Cathedral] can't have someone with a public same-sex marriage here and remain Catholic,'" according to a complaint.
Now, Payne-Elliott is suing the Archdiocese of Indianapolis, accusing the Catholic Church of discrimination and interfering with his teaching contract. Payne-Elliott is seeking compensation for lost earnings and benefits, as well as emotional distress, according to a lawsuit filed Wednesday in Marion Superior Court.
In the years since same-sex marriage has become legal, religious schools have grappled with how to handle faculty and staff who enter into unions recognized by the state but condemned by their institutions, with many opting to fire the LGBTQ teachers, leading to litigation and outrage.
"We hope that this case will put a stop to the targeting of LGBTQ employees and their families," Payne-Elliott said in a news release, the Associated Press reported.
The archdiocese has remained steadfast, telling the Indianapolis Star that it has the right to determine appropriate conduct for teachers.
Two years ago, the archdiocese began requiring all Catholic schools to write into contracts that teachers must uphold church teachings. There are almost 70 Catholic schools, including 11 high schools, in the archdiocese, which enrolled more than 23,000 students during the 2018-2019 academic year, The Washington Post's Valerie Strauss reported.
Washingtonpost.com, July 12, 2019 by Timothy Bella
Click
here
to read the entire article.
The post A gay Catholic school teacher was fired for his same-sex marriage. Now, he's suing the archdiocese. appeared first on Time For Families.

Source: Time for Families