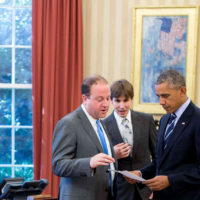 Control of Congress now split; LGBTQ community makes impressive strides
On a night when the Democratic Party achieved a net gain of somewhere between 30 and 35 seats in the US House of Representatives, wresting control from the Republicans and finally putting some check on President Donald Trump, the LGBTQ community enjoyed key victories, including the election of the nation's first out gay governor and the defeat of an anti-transgender ballot initiative in Massachusetts.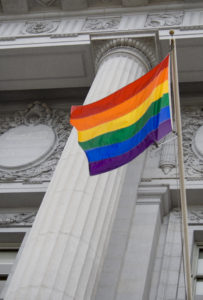 The Massachusetts referendum resulted from the efforts of anti-trans activists to repeal a 2016 law that guaranteed equal access to public accommodations regardless of gender identity. A yes vote upheld that law and garnered roughly 70 percent of the vote, after a hard-fought campaign.
In a written statement, Carol Rose, the executive director of the ACLU of Massachusetts said voters "reaffirmed our Commonwealth as a place that fiercely defends our basic values of dignity and respect for everyone. At a time when transgender rights are being threatened nationally, we absolutely must preserve the rights we have secured at the state level."
In Colorado, Jared Polis, an out gay Democrat elected to Congress in 2008, was elected governor with a margin of about seven percentage points. Polis succeeds two-term Democratic Governor John Hickenlooper.
"Every Coloradan wants good schools, healthy communities, and more opportunity for the next generation," Polis said in a written statement. "So the time is now to unite in our common purpose, rooted in our shared love for our home of Colorado, and move forward together, confident that what makes us unique isn't just the boldness of our ideas — it's the resilience and the spirit of Coloradans, who make change happen, who bring these bold ideas to life."
In Oregon, Governor Kate Brown, an out bisexual Democrat who took office in 2015 after her predecessor resigned and won a special election the following year, held on to her office, with a five percent margin over her Republican opponent.
In Arizona, Kyrsten Sinema, an out bisexual member of Congress first elected in 2012, trails her Republican opponent, Martha McSally, who was elected to the House two years later, by about 16,000 votes. According to CBS News, however, there are more than one million early ballot votes that have not yet been tallied, so it will be at least several days until that race is called.
The Democrats' sweep of the House saw the election of at least four new LGBTQ representatives: Christopher Pappas, who will be New Hampshire's first LGBTQ member of Congress; Angie Craig, Minnesota's first out lesbian or gay person elected to the House after defeating Jason Lewis, an outspokenly anti-gay Republican representing suburban Minneapolis; Katie Hill, who defeated anti-gay California Republican Steve Knight; and Sharice Davids, who will be Kansas' first out lesbian or gay member of Congress and the first Native American woman to serve there. (Gina Ortiz Jones trails Texas Republican incumbent Will Hurd by about 1,200 votes in unofficial returns, but that race has not yet been called.)
Gay City News, by Paul Schindler, November 8, 2018
Click here to read the entire article.
The post A Democratic House, Nation's First Gay Governor appeared first on Time For Families.

Source: Time for Families